April 30th, 2013, by Kent Larsen
Browsing the pages of The Mormon the other day, I came across the folowing advertisement1: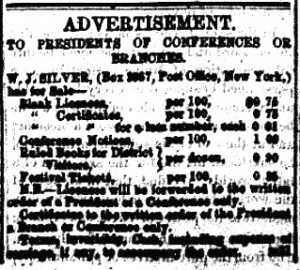 Since its a little blurry, here is the text:
ADVERTISEMENT.
TO PRESIDENTS OF CONFERENCES OR BRANCHES.
W. J. SILVER, (Box 5057, Post Office, New York,) has for Sale—
Blank Licences,                                  per 100,      $0.75
.    "     Certificates,                             per 100,        0.75
.    "            "               for a less number, each        0.01
Conference Notices,                          per 100,        1.00
Ruled Books for District Visitors   per dozen,    0.30
Festival Tickets,                                 per 100,        0.25
N.B.—Licences will be forwarded to the written order of a President of a Conference only.
Certificats to the written order of the President a Branch or Conference only.
Terms, Invariably, Cash, including expenses of carriage, if any, to accompany the order.
——-
Perhaps this ad is mundane, simply a necessary element of running an organization like a church. But I'm not convinced that any element can be truly unimportant, given the relative lack of information about this time in Mormonism in New York City.  Some of the things mentioned in this ad I believe I understand. Others I'm not so sure.
For example, the ad is addressed to "Presidents of Conferences or Branches." I don't yet know how many branches and conferences were in the Eastern States Mission, but it easily could have been dozens. I hope to know more as I explore the pages of the Mormon and other sources.
What was a "Conference?" We don't use this term the same way any more in the Church. As I understand it, a conference was roughly the equivalent of a mission district today — a group of branches in a mission. I don't know why the term was dropped in favor of the term district, or if there were operational differences from districts today. As far as I know, the history of organizational changes in the Church like this one has not been studied. I'd like to know more.
I know a bit more about William J. Silver, the vendor mentioned in the ad. Silver arrived in New York City from his natal England in 1855 on the ship Cynosure. A mechanical engineer, Silver had worked for the Great Western Railway and at the Stothert and Pitt Iron Works at Bath, England, but had resigned his position to immigrate with his family.
In the city Silver apparently worked as a mechanical engineer, which leads me to wonder why he stayed in New York for four years and why he was selling supplies to the conferences and branches in the mission. Was he actually unable to find work and needed this income, as little as it must have been? That seems unlikely given the rapid growth of railroads in the New York region at the time. Why did he stay in New York, given the 1857-1858 Utah War? Was he simply an entrepreneur and found an opportunity? Or did John Taylor ask him to do this so that the supplies would be available?
Silver did emigrate to Utah in 1859 and there he started an iron works business that eventually became the Silver Brothers Iron Works. On November 20, 1868, Silver constructed the first steam engine ever built in the State. He died in 1918.
Leaving aside the mysteries of the New York City years of William Silver, I should probably ask what were the items he sold used for? I'm not 100% sure, but I imagine a lot of their use grew out of the need to communicate who was authorized to act for the Church and who was actually a member. I imagine that a License indicated that the bearer was a church leader or missionary—President of the Branch, for example. I have occasionally seen references to individuals having their license taken from them.
I assume that a certificate, in contrast, represents an ordinance performed, much as it does today (even though it seems like they are not often used any more).
Conference Notices seem straightforward, except we don't really use anything like them today—members find out about conferences through announcements made in meetings. So why were conference notice forms needed? Were they advertising to the general public? Were they delivered or mailed to members? Did attendance at the conference mean more than attendance at Church? Was that how the number of members in a conference or branch was determined?
Visitors books make some sense, although today they are only used for special occasions, like weddings and funerals and commemorative events. But if a branch had a visitors' book, what happened to these books? Do they exist for at least a few units in the Church archives? It would be fascinating to see the signatures or names of some of the visitors that came to Mormon meetings at this time. As I understand it, John Greenleaf Whittier visited a Mormon meeting in the late 1840s. It would be cool to see his signature in a visitors book!
The final item for sale, "Festival Tickets" leaves me scratching my head. Was this some  specific event? or was it a type of event that was frequently put on by Mormon branches in the east? Why was it called a "festival" instead of a party or excursion something?
I hope this kind of analysis raises the same kind of questions in your mind. This kind of thinking is what leads me to say that there isn't really any information that isn't of potential value to history. And it is likely the tendency to overlook this kind of "mundane" item that leaves us with so many questions about our own history.
"Advertisement." The Mormon, v3 n15, p4, 30 May 1857 ↩